Representative Mike Fitzpatrick: Five-year Colorectal Cancer Survivor
Age: 50
U.S. Representative, Pennsylvania's 8th Congressional District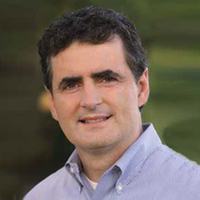 At first, the symptoms were familiar – not disabling – not much to worry about. We pick up a virus now and then, it makes us sick for a few days, and it's over. But there was a day in spring 2008 when the "virus" had not subsided. The symptoms were even more pronounced by the time I relayed this to my wife. In retrospect, the symptoms were similar to what we know about colon cancer, but I chose to ignore them – I was having a couple of busy weeks.
It was obvious this was not a virus. At my wife's insistence, not my better judgment, I went to the doctor for screening and soon after I was told I had colon cancer – later learning it was stage 3.
There are many things I know now about recognizing symptoms, as well as family history. In my case, four grandparents died from cancer; both my parents are cancer survivors, and a sister.
My first thoughts on hearing the news: I was 44 years old, a father of six, seemingly in good health. Two words come to mind: disbelief and incomprehensible. Needless to say, life changed that day and I was forced to focus on my health and the future. Two other words came to mind: cure or not.
I began treatment at our local community hospital with a great team of physicians, nurses, and technicians administering chemotherapy and a "lifetime dose" of radiation. I was scheduled for four months of very aggressive treatment, beginning in June 2008, leading up to surgery scheduled for October that same year.
Following the mandatory, presurgery examination, I was surprised to learn that the tumor was gone "melted away," someone said. I had a choice to have the surgery, regardless, or just post-surgery chemotherapy. I opted for the latter. From October 2008 to March 2009, I underwent the prescribed treatment, and during this nine-month period of treatment at the hospital, I watched the health care bill being debated in Congress. At that point, it was personal.
I was often asked how I felt while undergoing treatment. I suppose it is different for each of us. I was tired, not feeling great most days, but I never missed a day at the law office. I even tried a case in court. Maybe it was a "life goes on" effort, but it worked.
With my illness in remission, I decided I should get back in the game and in January 2010 I announced that I would run for my old congressional seat. I made the announcement in front of the hospital where I had been treated, with the port in my chest reminding me the cancer could return.
In the aftermath, I look at life knowing I've been given a second chance. Of course, I always appreciated my family, my wife and six kids, seven siblings, parents – but facing your own mortality somehow changes the view. What we take for granted, soars. I even decided to have another run at Congress – and regained my former seat.
In my chosen profession now, I believe this experience has made me a better advocate for the rights of citizens dealing with cancer. I am much more passionate about debating the need for additional money for cancer research so this disease can be thoroughly beaten.
Thus far, I've been spared and I'm forever thankful to God and the wonderful care I received, and continue to receive, in follow-up visits. I have the utmost respect for those in the healing profession – the physicians and scientists who have chosen this path so others may live. They have my heartfelt gratitude.
---
The AACR was saddened to learn that Michael Fitzpatrick passed away on January 6, 2020. We are deeply grateful to Rep. Fitzpatrick for sharing his experience with cancer in the AACR Cancer Progress Report 2013 and for his tireless efforts to support medical issues and cancer research as a member of Congress. We offer our heartfelt condolences to his family and friends.