Lori Redmer: Breast Cancer
Age: 44
Westport, Connecticut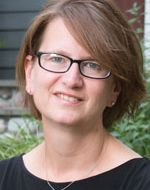 Nothing prepared me for the shock of being diagnosed with stage III breast cancer, let alone the fact that it was triple-negative breast cancer, a form of the disease that we fight today with almost the same tools that we used in the 1970s.
My journey with cancer began right before the holidays in 2009. One morning I woke up with pain in one of my breasts. At first I wasn't concerned, because "cancer doesn't hurt," but I went to see my doctor to be sure. After tests, I was told that I had what looked like a large cancer in my left breast, and that I needed to see a surgeon immediately. It was like running into a wall at a thousand miles an hour.
The news got worse, much worse, before it started to get better. Six days later I had a lumpectomy. Waking up and getting the news that it was definitely cancer was another blow. Then the results of the pathology showed that my cancer was triple negative. The oncologist who gave me the news said, "I had hoped for better for you. You got the bad player." Those are words you never want to hear from an oncologist. Another surgery revealed I also had five affected lymph nodes.
I looked fine. I felt fine. It was just so surreal that this lurking threat could really compromise everything for me. I had to wait two weeks for the results of the scans and tests that would tell me if I had metastases. They were the darkest days of my life. I knew that if the results were bad, my deterioration would likely be rapid and my 14-month-old youngest child probably would not even remember me.
The tide turned when I learned that I had no metastases. At that point I just got down to business. I knew that I could deal with the physical side of things but that I would have to equip myself to face the mental side – the fear of recurrence and the uncertainty about the future. I leaned heavily on my faith, but I also learned to meditate and started running. I ran my first marathon a little less than a year after my diagnosis.
I was just 42 when I was diagnosed, which is fairly young, but typical for triple-negative breast cancer. I got a lot of guidance from the Triple Negative Breast Cancer Foundation just after diagnosis. I was also lucky to connect with a group of eight other young women with breast cancer for support. But I am unique within the group. Most were ER/PR-positive, a couple were HER2-positive and some were triple-positive. I was the only triple-negative. My terror was different – a higher risk of recurrence and fewer tools in the fight."
Sometimes people think breast cancer is not as bad as it used to be. That might be true for the majority of breast cancers, for which there are targeted therapies. But breast cancer is not one disease, it is many diseases, and triple-negative breast cancer affects a huge swath of women in the prime of their lives. For us, there are no targeted therapies available. Hopefully, the name "triple-negative breast cancer" will become obsolete in a few years because we will discover the next receptor. And then we will find a way to take this breast cancer down. Right now I am working toward that goal as the Executive Director of the Triple Negative Breast Cancer Foundation. Turns out I wanted to beat it AND join it!"
---
The AACR was saddened to learn that Lori Redmer passed away on August, 17, 2013. We are deeply grateful to Lori for sharing with us the story of her experience as a survivor of triple-negative breast cancer, and allowing us to chronicle it in the AACR Cancer Progress Report 2012 to help educate others and advocate for continued cancer research. We send our sincere condolences to Lori's family and friends.