The Honorable Gwen Moore: Working to Reduce the Financial Burden for Other Cancer Survivors
Age: 70
U.S. Representative for Wisconsin's 4th District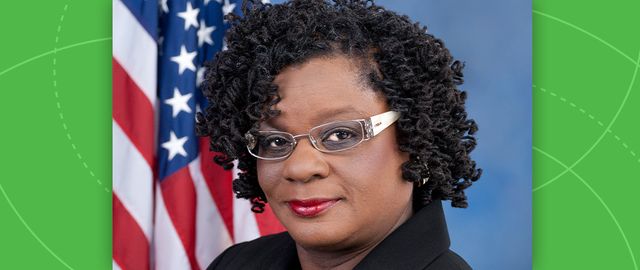 Thank you for the opportunity to share about my experience as a cancer survivor. I hope in sharing my story I can help others who are experiencing the challenges that I did as I navigated this process.
I learned of my cancer diagnosis with small-cell lymphocytic lymphoma in the spring of 2018. I was quickly reassured by my doctors that I will survive, and this cancer will die with me but not be the death of me. Three years later the doctors were right; today I write this in great health and wellness.
Naturally, there was the initial anxiety of being diagnosed with cancer. On one hand the diagnosis was a relief since I had been going through weekly testing. On the other hand, I was scared. My fear was followed by the gratefulness that this cancer will not kill me. I cried tears of joy from realizing that I will have many more years of good health to love my family and serve my community. Then one day, when I was laying in bed undergoing chemo I thought; how different would my outlook be without medical research that helped develop the $15,000 a month drug that I now take?
Again, tears filled my eyes as I thought of those whose diagnoses would have been a death sentence. Immediately my mind raced back to those questions I had on the hospital bed three years ago. Almost 2 million Americans are diagnosed with cancer annually. How many of those Americans are immediately reassured that they will survive? How many of those Americans will worry about the financial burden they will place on their families in the fight to survive? Everyday people make the difficult decision to forgo treatment or ration their insulin or other life-saving medications to avoid thousands in debt.
These questions should not have to be asked in a developed country such as ours. Hundreds of thousands of people should not be forced between the false dichotomy of physical survival and economic survival. My cancer diagnosis only empowered me to fight harder for the healthcare of those Americans who are not as fortunate as I am. That is why I am a perseverant defender of the Affordable Care Act and work to reduce the number of uninsured in our country.
To all the doctors, health care workers, and researchers working hard to find cures and treatment for cancer, please keep fighting to save American lives. I promise that I will fight until I cannot fight anymore to protect the millions of poor and working-class Americans living with cancer. I will relentlessly continue to support the medical research and innovation that will eradicate cancer.