Bob Ribbans: Living with Confidence Thanks to Immunotherapy
Age: 67
Ringoes, New Jersey
At the end of 2009, when my melanoma spread to new areas of my skin, I felt like I was out of options. But my wife refused to give up and found out about a clinical trial testing a new type of treatment, an immunotherapy that is injected into individual melanoma lesions. I jumped at the chance to enroll in the trial, and thankfully, it was a success for me. As far as I'm concerned, I'm cured. I feel so confident that I'm hoping to be around to hold my great-grandchildren in my arms; my grandsons are still only 13 and 10.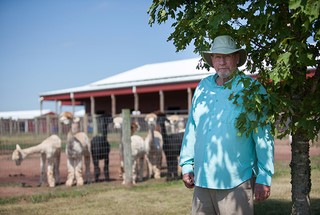 I have spent most of my life outdoors. I was in the golf course industry for 36 years and worked on our farm in my spare time and since my retirement in 2006. I never wore a hat, and I'm sure that is one reason why I developed melanoma. Since my diagnosis, I always wear a hat and take great care to protect my skin from the sun.
It all started in the summer of 2008 when I noticed a scab on the top of my head. It wouldn't go away, so my wife encouraged me to see a dermatologist. I had a biopsy done at my first appointment, and it was just days later that I got a call from the dermatologist who told me that I had melanoma.
I didn't know much about melanoma – I knew it was skin cancer, but that was all. I immediately started looking on the internet for the cure for melanoma. I couldn't find one, and that was when I realized how serious things were.
My wife and I looked at my options, and we decided together that I would go to Memorial Sloan Kettering Cancer Center in New York for treatment. I had surgery to remove the melanoma lesions on my head and the surrounding skin. During the surgery, they removed an area of skin that was about 4 inches in diameter, but they covered that with a skin graft taken from the inner part of my left thigh.
Less than a year later, some melanoma lesions appeared inside the skin graft. Surgery was not an option, so I had radiation treatment. I went three times over a 6-week period. The lesions disappeared.
Six months later, however, four melanoma lesions appeared on my forehead, outside the area of radiation.
At this point, the doctor told me there were no localized treatment options; chemotherapy was my only choice. Fortunately, my wife, who works in the area of drug approvals, learned about a clinical trial at St. Luke's University Hospital in Bethlehem, Pennsylvania, through a business acquaintance. The trial was testing a new local treatment for melanoma called T-Vec (Imlygic).
We immediately made an appointment with the doctor at St. Luke's, and 3 weeks later, by which time two more lesions had appeared, I received my first treatment with T-Vec. I went for treatment every 2 weeks from January 2010 to April 2010. Each time, the T-Vec was injected directly into each melanoma lesion. At the end of that time, all of the lesions had disappeared.
One reason I am confident that my treatment with T-Vec was successful is that about 2 months after my final injections, I felt a lump on my neck the size of a dime. It was a lymph node, and a biopsy showed that although there were some viable melanoma cells present, most of the melanoma cells present were dead.
The T-Vec injected into the lesions in my skin had activated my immune system such that it could attack the melanoma in my lymph node. Erring on the side of caution, my doctors suggested I have several injections of T-Vec into the melanoma lesions in my lymph node. When a follow-up biopsy found all the melanoma cells were dead, I had the lymph node surgically removed.
Since then, I've been free of melanoma. I do have CT scans every 6 months and see my local dermatologist and the dermatologist at St. Luke's every 6 months, but my health is good. I feel very blessed to be around and credit the incredible support from my wife. During my experience, she was a huge pillar to lean on. She had every confidence in the world that T-Vec was going to work, and it has. I couldn't be more thankful for her support or more grateful for the research and clinical trial that led me to T-Vec because without it, I would not be here.