Dave Maddison: Experiencing Special Moments Thanks to Immunotherapy
Age: 70
Bishopsteignton, United Kingdom
I was diagnosed with bladder cancer in February 2009. After 5 years in which I had three major surgeries and what seemed like endless months of radiotherapy and chemotherapy, which made me really, really sick, I was told to put my affairs in order. But then, I was offered a spot in a clinical trial testing an immunotherapy called atezolizumab (Tecentriq), and I'm now the picture of health. I start work at 7:15 each morning and spend my spare time in the garden, doing jobs around the house, and building memories with my family.
My journey with bladder cancer started very suddenly, toward the end of 2008, when I noticed my urine was bright red. It was a huge shock, and I immediately made an appointment with my physician. About 8 weeks later, after lots of poking, prodding, tests, ands cans, I was told that I had a tumor on the tube [ureter] that connected my right kidney to my bladder.
I was filled with fear. Fear of suffering, fear of pain, and fear of dying.
After a 9 – hour surgery to remove the tumor and my right kidney, the doctors told me there was no sign that the cancer had spread and that I didn't need to have chemotherapy.
But 6 to 8 months after the surgery, a follow- up scan showed that a tumor had developed where the kidney had been removed. So my oncologist started me on a 4-month course of chemotherapy – gemcitabine and cisplatin. The day after my first infusion, I collapsed at home and had to be taken to the hospital, as I was so sick. That was just the first day of 4 months of hell. I couldn't keep food down, one particular brand of grapefruit juice made up about 60 percent of my diet, I had extreme constipation, and my quality of life was about 15 percent of normal.
Over the next few years, I had radiotherapy and more chemotherapy in an effort to keep my cancer at bay. But by February 2014, I had 11 tumors in my body, nine in my right lung, one in my lymph system above my stomach, and the primary tumor in my pelvis, which was the size of a grapefruit. My oncologist told me there was nothing more she could do and that I had 8 months to a year left to live.
To make sure she left no stone unturned, she referred me to another oncologist who she said would know abot all the oncology clinical trials being conducted. I saw him 2 months later, and he connected me with Professor Thomas Powels at Barts Cancer Institute in London who he said had a clinical trial that would be a perfect fit for me.
After speaking with Professor Powels, I jumped at the 50/50 chance of living he said that the trial offered me. I've been receiving atezolizumab through the trial for the past 2 – years. I go to London every 3 weeks fora 1-hour infusion of the immunotherapy, and I've never had a single side effect, except a little fatigue in the afternoon.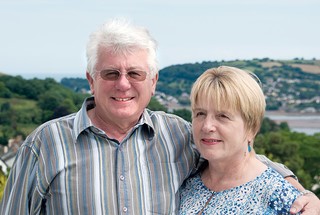 After just nine infusions of atezolizumab, the doctors could no longer see 10 of my 11 tumors, and the primary tumor in my pelvis had shrunk to the size of a thumbnail. I was later offered the chance to stop taking atezolizumab, but I chose to continue with it. Why would I want to stop when it has turned my life around? Before I started taking atezolizumab, I was preparing for death. Now I can't get enough of life, and I'm so thankful to have been given the chance to share moments with my grandson that by all predictions should not have been possible. For me, enrolling in the atezolizumab clinical trial was my last chance for life, and I got it. Today, I try to give back by telling my story. I speak to a lot of people at Barts who are considering a clinical trial. I tell them about my experience and answer their questions.
I also share my experience because I know I am the lucky beneficiary of research. Atezolizumab only came about because of immunotherapy research and the hard work and money that supported it, and I have no doubt research saved my life.