Representative Deborah Wasserman Schultz: Breast Cancer Survivor Since 2007
Age: 47
U.S. Representative, Florida's 23rd Congressional District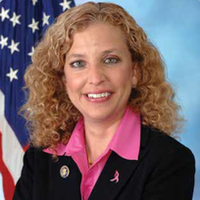 For as much as I knew as an advocate in the fight against breast cancer over my 20-year legislative career, I quickly realized in late 2007 that there was much I didn't know when I found a lump just six weeks after a clean mammogram – it was breast cancer, and I was only 41. At the time, I did not know that as an Ashkenazi Jew, I was five times more likely to have the BRCA 1 or BRCA2 gene mutation. I did not know that carriers of the BRCA gene mutations have up to an 85 percent lifetime chance of getting breast cancer and up to a 60 percent chance of getting ovarian cancer. I found out that I do have the BRCA2 mutation. I was fortunate that I found the tumor early, but I didn't find my tumor through luck. I found it through knowledge and awareness.
It was also made plainly clear to me that despite the perception that breast cancer is something older women need to worry about, young women can and do get breast cancer. Sharing this knowledge is critical because young women's breast cancers are generally more aggressive, are diagnosed at a later stage, and result in lower survival rates. One reason they are diagnosed at a later stage is because many young women simply don't think they can get breast cancer. And even if they do suspect something is wrong, too many physicians dismiss their concerns because they also believe that the woman is simply too young to have breast cancer.
After experiencing the importance of early detection firsthand, I knew that I had to introduce legislation to help other young women facing this terrible disease. That is why, as soon as I was cancer-free, I introduced the Breast Health Education and Awareness Requires Learning Young Act, or the EARLY Act. I'm proud to report that the EARLY Act became law in 2010 as part of the Affordable Care Act and is already being implemented.
The EARLY Act focuses on a central tenet: that we must empower young women to understand their bodies and speak up for their health. It creates an education and outreach campaign that highlights the breast cancer risks facing women 45 and under, and empowers them with the tools they need to fight this deadly disease. It helps educate and sensitize health care providers about the specific threats and warning signs of breast cancer in younger women that lead to early detection, diagnosis, and survival.
Looking to the future, I am committed to finding those gaps in cancer treatment and awareness and working on legislative solutions to fill those voids. I think of all the women who have fought the breast cancer battle as my sisters in survival, united and made that much stronger by these difficult experiences. I could not be more grateful to everyone who has chosen to join us in this fight, so that we can support each other, and eliminate cancer, once and for all.