Antoni Smith: Prostate Cancer
Age: 57
Brooklyn, New York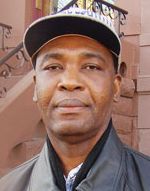 In 2007, I was diagnosed with prostate cancer. I was just 52 years old and a father of three. It progressed to metastatic cancer in 2010. By the end of March 2012, I had endured numerous rounds of chemotherapy, but my cancer was not responding. I was at the point of giving up. I agreed to try one last treatment, a brand new drug called abiraterone (Zytiga). It has given me a new lease on life – I'm feeling better than I have in a very long time.
Although I was told at diagnosis that my prostate cancer was aggressive, after receiving radiation and hormone therapy in 2008, I thought everything was going to be all right. But this was not the case. First, I lost my health insurance and was unable to continue with the anti-hormone therapy. Then, when I got my health insurance back a year later, I made the worst decision of my life: I refused to restart anti-hormone therapy because I felt great, and I did not want to suffer the side-effects of the treatment again.
Things gradually went downhill for me, and the metastasis to my kidney was discovered in 2010. By 2011, the cancer had spread to my bladder and lymph nodes, and I had my first kidney stent placed. One of my doctors suggested surgical castration, but I refused. Instead, I decided I needed another opinion, from a doctor at a facility dedicated to treating cancer patients. I chose Memorial Sloan-Kettering Cancer Center in New York City, and I entered their care in October 2011.
When I started the first of many cycles of chemotherapy, my PSA level was 700, which is 175 times higher than the level considered normal. The first chemotherapy combination had no real effect on my PSA level, and my cancer continued to spread. Increasing the dose of the chemotherapy drugs to the maximum and adding another drug to the cocktail did little, and my health declined dramatically. I suffered terribly with side effects from the chemotherapy drugs. I became dehydrated and lost a tremendous amount of weight as a result of diarrhea, vomiting and loss of appetite. I lost my hair. I experienced severe neuropathy in my feet and developed lymphedema. The side effects were so bad that I was hospitalized several times.
By March 2012, I did not have the strength to continue with the chemotherapy. I really believed that death was near. But my doctor at Memorial Sloan-Kettering Cancer Center said there was one more option I should try, abiraterone. I was reluctant. It has been the best thing that I have done. My hair, my strength and my appetite have all returned. I have not been hospitalized since being on abiraterone and my PSA level is down to 34. I still suffer from neuropathy in my feet and lymphedema, but thanks to my doctors and abiraterone I have my life back.
I hope that by telling my story, I can raise awareness of prostate cancer and of the fact that there is hope for other men facing the same situation as me.