Luke Theodosiades: Confronting Childhood Leukemia
Age: 13
Swarthmore, Pennsylvania
Our son Luke was diagnosed with acute lymphoblastic leukemia (ALL) in June 2015. The leukemia did not respond to chemotherapy, so his doctors turned to research to look for a way forward. The researchers found a chromosomal translocation in the leukemia cells that suggested the drug ruxolitinib (Jakafi) might help. It did. After 9 months of chemotherapy and ruxolitinib, there was no sign of leukemia cells with the chromosomal translocation. But there were some other leukemia cells there. After CAR T-cell therapy, these cells were also undetectable, but the doctors are worried that Luke will relapse, and so he is having a bone marrow transplant at the end of August 2016. We hope that this will put Luke's cancer behind him, and he will be back playing baseball next season.
Luke's diagnosis with ALL came just days after we took him to the pediatrician for what we thought was sports-induced asthma. He had just finished sixth grade and was playing baseball every day. It was hot out, and when he seemed to be having breathing issues while playing and was sleeping a lot when he came home, we weren't too worried. But after about a week, we took him to the pediatrician to find out what was going on.
After weighing Luke and discovering he had lost about 10 pounds, the pediatrician began asking lots of questions and ordered blood work and a chest X-ray. She called the next afternoon and said, "I hate to tell you this, but Luke has leukemia, you need to go to Children's Hospital of Philadelphia right away."
The doctors were waiting for us and immediately started leukopheresis. There were so many white cells in Luke's blood that they had to take some out. They could not believe that he had spent the day at the pool and playing baseball. They told us that with a white blood cell count as high as his, he should have been unable to get out of bed. Luke spent the next 5 weeks in the hospital receiving intensive chemotherapy. But the leukemia didn't fully respond to treatment. When the doctors suggested having his leukemia cells analyzed by researchers, we were happy to agree because we wanted solutions to the problem and a cure for Luke.
The research analysis identified a chromosomal translocation, GOLGA5-JAK2, which led the doctors to add a drug called ruxolitinib to Luke's chemotherapy. After about 9 months, leukemia cells with the GOLGA5-JAK2 translocation were undetectable. But there were other leukemia cells still there.
Fortunately, early on in Luke's treatment, the doctors had taken his T cells because they were hoping that he would eventually be a candidate for a CAR T-cell therapy clinical trial. The ruxolitinib/chemotherapy combination did the job. This treatment knocked down the number of leukemia cells sufficiently so that Luke could enroll in the trial.
Luke received the CAR T-cell therapy in May 2016. The procedure was very simple, and he had no side effects.
A few weeks later, we learned that there were no leukemia cells detectable at all.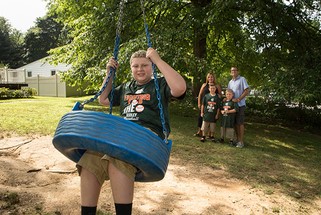 The doctors are worried that because Luke's leukemia was very aggressive and chemoresistant, the CAR T-cell therapy will not keep him in remission long term, so he is scheduled to have a bone marrow transplant at the end of August. The whole procedure will be tough for Luke because he will have to be in the hospital for up to 8 weeks, and after that, he won't be able to go back to school for another 6 or 9 months. Luke loves being in school with his friends, as he is very sociable. Throughout his treatment, we have tried to keep things as normal as possible for Luke and his brothers. He has been to school and has played baseball as much as he can. These activities seem to have really helped him deal with everything he has been through.
We are very fortunate to have had incredible support from our family and the community throughout this experience. Our lives were changed forever, but we hope to give back by telling how research changed our lives by giving us options for Luke. With more funding, research can do even more; maybe it can lead to a cure for everybody.