Ginger Tam: Surviving With Metastatic Lung Cancer Thanks to Research
Age: 54
Northfield, Illinois
Since I was diagnosed with metastatic lung cancer in 2011, I have received numerous treatments, most by participating in clinical trials. A lot of these treatments have caused me to lose my voice, which was devastating to me because I am a professional singer. Within 2 months of starting a clinical trial testing a drug called osimertinib (Tagrisso), I had my voice back, along with my breath. Although my lung cancer progressed after 2 years of receiving osimertinib, my experience with the drug was so awesome that I always said if my lung cancer progressed again, I would look to enroll in a clinical trial testing osimertinib in combination with other treatments. Today I am at that point. I am enrolling in a clinical trial of osimertinib plus another treatment. I am thrilled.
My journey with lung cancer started 5 – years ago, when I was just 49. I went to the doctor due to a persistent cold and cough that had not gone away despite several courses of antibiotics. The doctor ordered a chest X-ray, and after taking one look at the film she said, "It looks like it is metastatic lung cancer and there's just so much of it," then left me alone in the exam room.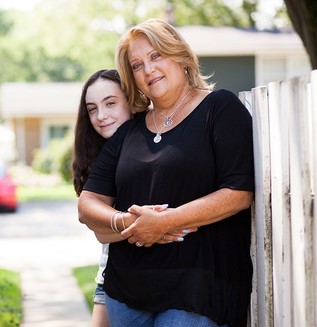 All I could think about was: What would happen to my 8-year-old daughter? I was a single mom and everything I had heard about lung cancer pointed to death.
My fears were compounded when, after a biopsy showed that I had non-small cell lung cancer, the doctor told me I had maybe 2 years left to live at the most.
I wanted more. So I sought a second opinion at a research hospital, Rush University Medical Center, in Chicago. The doctors there would not give me a timeline saying that there were lots of new drugs in development, and they could not give me an accurate prognosis.
That made me confident in the treatment plan that they outlined, and I started chemotherapy almost immediately. It didn't work, however, and the lung cancer continued to progress.
The doctors started me on erlotinib (Tarceva), which is an EGFR inhibitor, even though my diagnostic biopsy had not been tested for EFGR mutations. They had a hunch that it might work because I was so young, and EGFR mutations are more common among younger people. It did work. In fact, I had almost a complete response.
Unfortunately, it didn't last, and the cancer progressed again. This time they did a biopsy and tested it for a specific EGFR mutation, the EGFR T790M mutation, which is a frequent cause of resistance to EGFR inhibitors in lung cancer. My doctor helped me find an early-stage clinical trial of a drug called CO-1686, which was designed to inhibit the EGFR T790M mutation. It didn't work for me, so I had to start a really strong chemotherapy combination, carboplatin- taxol. It was extremely tough. It made me so sick.
I still have neuropathy in my feet as a result of the chemo.
After my lung cancer progressed again, I went back to erlotinib. This kept my lung cancer at bay for 6 months, at which point I was able to get the last spot in Denver in a clinical trial testing osimertinib, another drug designed to inhibit the EGFR T790M mutation.
The 2 years I spent taking osimertinib were so different from the rest of my time being treated for lung cancer. I felt healthier than I had in a long time. There were almost no side effects, my voice came back, I could sing again, I could exercise, and I took my daughter to Paris where we did bike tours and walked everywhere. It was awesome.
In early 2016, I had to switch to another clinical trial because my lung cancer progressed again. This trial was testing an antibody-drug conjugate. The drug gave me fewer side effects than regular chemotherapy, but my quality of life was not as good as it was when I was taking osimertinib. However, my time in this trial has come to an end and I am so very happy to be returning to an osimertinib trial.
Thank God for clinical trials. I am alive 5 – years after my diagnosis with metastatic lung cancer. Statistics said I should have been gone years ago, but I'm not. I'm still here. I'm with my daughter, and that is what matters.
---
The AACR was saddened to learn that Ginger Tam passed away on February 10, 2018. We are deeply grateful to Ginger for sharing her experience with cancer in the AACR Cancer Progress Report 2016 and for her tireless efforts to support patients and caregivers and to advocate for increased funding for cancer research. We offer our heartfelt condolences to her family and friends.