Nancy McGuire: Thriving with Leiomyosarcoma Thanks to Research
Age: 70
Great Falls, Virginia
After I was diagnosed with leiomyosarcoma, it was very hard to find a medical oncologist who specialized in treating sarcoma.
Eventually, my daughter found someone at the University of Pennsylvania, which is close to her home. He has guided me through numerous treatments over the past 6 – years, including, most recently, a new chemotherapy called trabectedin (Yondelis). It has worked so well that I've been given a vacation from treatment. For now, I feel wonderful, emotionally and physically. Life is good.
In December 2009, just after a few days of having pain in my lower pelvic area that wouldn't go away, I went to my primary care physician who ordered a CT scan and MRI for that very day. The tests showed a mass of some description in my lower pelvic area, so I had surgery 17 days later, not knowing exactly what it was.
When I came out of surgery, the doctors had already told my husband and family that I had cancer and that pathology would determine what type. My diagnosis was leiomyosarcoma. I was devastated. I couldn't do anything. After I came home from the hospital, all I could do was stare out the window. I was convinced that I would die within months.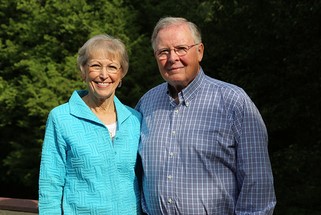 My husband, children, sister, and church friends were a huge support, and I was eventually able to come to terms with my diagnosis.
After the surgery, I saw a local radiologist and had 28 radiation treatments. When she told me that she saw about one person a year who had leiomyosarcoma, I realized how hard it would be to find an expert in treating this disease in my area. My daughter, who lives in the suburbs of Philadelphia, found a sarcoma specialist at the University of Pennsylvania, Dr. Arthur Staddon. The first time I saw him, he told me the disease was not curable but that it was certainly treatable.
It was the first time I had felt optimistic about my future since my diagnosis.
Over the years, I have received many different treatments. Initially, I had CT scans every 3 months, and Dr. Staddon monitored the disease. After about a year, tumors in my liver appeared, and I had a course of chemotherapy, gemcitabine (Gemzar), and docetxel (Taxotere), and then surgery to remove tumors from my liver, some of which had been killed as a result of the chemotherapy.
These treatments were followed by another period of monitoring my disease with CT scans, which eventually showed further growth of tumors in my left lung. I started a course of chemotherapy with doxorubicin (Adriamycin). Following that treatment, I had surgery. After a year or so, I had another major lung surgery to remove numerous tumors in my right lung. Four months later, I had cryoablation, microwave ablation, and chemoembolization to destroy tumors in my liver.
In January 2016, I started taking trabectedin, right after it had been approved by the FDA. After just three treatments, a CT scan showed there were no new tumors, and the existing tumors had shrunk. Three more treatments later, the scan revealed more significant improvement, including showing that some tumors had decreased in size even further. Because my most recent CT scan indicated additional improvement, Dr. Staddon recommended I stop taking trabectedin for a while. I will have another scan in September [2016].
Depending on what that shows, we will make a decision about whether to restart treatment with trabectedin or continue without treatment. One great thing about the trabectedin treatment is that I was able to receive the 24-hour infusion at my daughter's home, rather than receiving it in the hospital. It is so much more pleasant to go through the chemotherapy infusion in a familiar environment with my family around me. It helped me keep a positive attitude, which makes a big difference to me.
I am really grateful for all the treatments that have kept me alive for the past 6 – years. The goal of a patient with cancer is to live long enough to be around when the next new drug is developed. The only way that is going to happen is with further research and the funding that supports it.