Jill Ward: Pancreatic Adenocarcinoma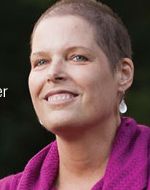 I will become a five-year survivor of pancreatic adenocarcinoma in October. While I am excited to reach this milestone, I realize that I will be one of very few who do. Pancreatic cancer is the only major cancer with a five-year survival rate in the single digits. This is why I advocate for pancreatic cancer research through the Pancreatic Cancer Action Network.
I was diagnosed with pancreatic cancer in October 2007, just a few days shy of my 50th birthday. My father had died from the same disease in 2004. I had begun losing weight and experiencing diarrhea. An urgent care physician and my regular doctor both told me that it was unlikely that I had pancreatic cancer because I was young, I did not smoke, I rarely drank alcohol and the disease was not hereditary. My doctor ordered a blood test to assess my liver function, and when the results came back abnormally high, I was referred to a gastroenterologist. After several liver conditions where ruled out, a special procedure revealed that there may be a tumor in my pancreas.
Because it is very hard to see the pancreas in scans, the next step was a complicated surgery called the Whipple procedure. The results from the biopsy showed that I had stage II pancreatic cancer. I knew from my research that my chances of long-term survival were not good, so my husband and I decided that we were going to prioritize making memories and having fun with our children.
After the surgery, I had six weeks of radiation combined with a continuous infusion of chemotherapy. I found it difficult to find a knowledgeable oncologist because pancreatic cancer is a relatively rare cancer and few patients survive to be treated long term. When I discovered that my first oncologist did not know the standard treatment for pancreatic cancer, I changed doctors. In 2008, my second oncologist insisted that new and growing nodules in my lungs were not metastatic tumors and would not authorize a biopsy.
At this point, I went to the Johns Hopkins Hospital, in Baltimore. There I met one of the top researchers in the pancreatic cancer field. He immediately arranged for me to have a lung biopsy. The results were discouraging: The cancer had metastasized to my lungs. I knew that my odds of surviving had shortened dramatically. So, in keeping with our vow to enjoy life, my husband and I gathered our three children, packed up our van and drove to Key West for a vacation.
Over the past four years, I have been on several different chemotherapy regimens, each decided upon by both me and my oncologist. I am now on my sixth regimen. As this may be the last option available to me, I am utilizing the Pancreatic Cancer Action Network and my oncologists to search for a clinical trial in which to participate.
Throughout my experience with cancer, my philosophy has been to enjoy life and to trust that everything will work out as it should. One oncologist has repeatedly suggested that I stop chemotherapy. I tell him that yes, chemotherapy does have rough side effects, but that I'm still having fun and am determined to be aggressive in pursuing treatments until that is no longer true.
When I was diagnosed in 2007, I was determined to see all of my children graduate from high school. Now, thanks to my current top-notch medical team and treatments, I am making plans to see my youngest children graduate from college.
---
The AACR was saddened to learn that Jill Ward passed away on July 3, 2013. We are deeply grateful to Jill for sharing with us the story of her experience as a survivor of metastatic pancreatic cancer, and allowing us to chronicle it in the AACR Cancer Progress Report 2012 to help educate others and advocate for continued cancer research. We send our sincere condolences to Jill's family and friends.