Brooke Mulford: Neuroblastoma
Age: 7
Salisbury, Maryland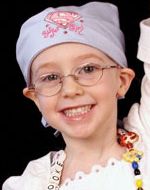 A message from Amy Mulford, Brooke's mother:
My daughter Brooke was diagnosed with a very aggressive cancer, Stage IV high-risk neuroblastoma, on January 5, 2009, when she was just four years old. Since that awful day she has endured all kinds of grueling cancer therapies, but we are fortunate that she was able to receive a combination immunotherapy treatment that included a drug called Ch14.18. It gave her a chance that children before her did not get.
It all started on Christmas Eve 2008, when Brooke started limping and complaining of pain in her leg. Her pediatrician diagnosed a sinus infection and infections in both her ears, and sent us to the local hospital for blood work and X-rays. Hospital doctors said that she had toxic synovitis as a result of the sinus and ear infections and that all she needed was antibiotics. A week later, I knew that was not the case when, after a three-hour car journey to family in New Jersey, she was unable to straighten her legs, in unbearable pain and running a fever. We went to Children's Hospital of Philadelphia (CHOP), and it was there that she was diagnosed.
We were very lucky to have been at CHOP. Neuroblastoma is rare; fewer than 700 American children are diagnosed with the disease each year, but a significant number of these children are treated at CHOP. Doctors determined that Brooke's cancer had started in her right adrenal gland and had spread through pretty much every bone in her body and approximately 80% of her bone marrow. I had seen the cancer light up throughout her body on her MIBG scan, and I thought there was no hope that she could survive. But, as a result of their experience with the disease, the doctors at CHOP were able to reassure us that there were treatments and that survival was a possibility.
Brooke's treatment began a week after her diagnosis. After six rounds of chemotherapy and surgery to remove the tumor on her adrenal gland, her MIBG scan showed that she had responded very well to the chemotherapy, but the cancer was not completely gone. However, after two stem cell transplants, using stem cells that they harvested after the second round of chemotherapy, her MIBG scan showed no evidence of neuroblastoma.
Right before the second transplant we found out that interim results of an ongoing clinical trial had shown that a combination immunotherapy that included the therapeutic antibody Ch14.18 increased cancer-free survival dramatically, and that Brooke was eligible to join the trial and receive this groundbreaking treatment. So, in November 2009, after the 12 rounds of radiation therapy that had followed her second transplant, she started on Ch14.18. She was lucky. While the treatments were painful and she had issues with her blood pressure, among other things, she did not experience the excruciating pain that other children do and she was able to complete the full six-month course of the combination immunotherapy.
Brooke completed all her treatments in April 2010, and there is currently no evidence of her disease. She now has scans every six months, and we hope that they continue to be clear.
I am so thankful that Brooke had this chance of survival, and I have no regrets about putting her through such a punishing course of treatments. However, it was devastating to watch her go through it and she has to endure a lot of side effects from the treatments – she has problems with her vision and her thyroid, issues with her teeth, permanent hair loss, trouble with coordination, and she will be infertile. Much more research needs to be done so that other children do not have to endure what Brooke did to be given a chance at life.
The AACR was extremely saddened to learn that Brooke Mulford passed away on June 12, 2017. We are deeply grateful to Amy Mulford, Brooke's mother, for sharing their experience with cancer in the AACR Cancer Progress Report 2012, to help educate others and advocate for continued funding of cancer research. We send our sincere condolences to Brooke's family.