Josh Sommer: Chordoma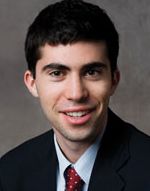 Shortly after beginning my freshman year at Duke University in 2006, I developed intense headaches. I didn't think much of them at first, but tests soon found the cause: chordoma, a very rare cancer that usually starts in the spinal column or skull. Only about 300 people are diagnosed with chordoma each year in the U.S., and when I was diagnosed, there were very few treatment options.
I had surgery to remove the tumor and after I recovered, my mother and I started the Chordoma Foundation in an attempt to accelerate the development of new treatments. I also began working in the laboratory of Duke oncologist, Michael J. Kelley. At the time, Dr. Kelley was the only federally funded scientist studying chordoma, and the research was challenging. There was no access to tumor samples, and the few researchers studying chordoma were unaware of one another and of other projects and tools.
When my mother and I started the Foundation, there was only one chordoma cell line for researchers to study. Now we have a second, and 3 more are currently being validated at Duke. The Chordoma Foundation has provided the first 2 valid cell lines to more than 40 labs, including many that were not previously studying chordoma. We have also set up a centralized biobank to collect tissue from hospitals across the country and we make it available to researchers who need it.
As critical research tools like these have become available, the number of researchers interested in studying chordoma – and the opportunities for discovery, both in chordoma and other cancers – have dramatically increased. In 2008, for example, several researchers published data indicating that a biological process known as the mTOR pathway is highly active in chordoma. Researchers in Italy are now conducting a clinical trial treating patients with drugs that inhibit this pathway, and they have had some preliminary success: Tumors stopped growing for 6 months, on average, in patients with advanced disease. It is not a cure, but it's definitely a step in the right direction.
In another sign of progress, researchers at the National Cancer Institute collaborating with Dr. Kelley in October 2009 found the cause of familial chordoma: a duplication of the Brachyury/T gene. This was the first time that a gene duplication was discovered to cause cancer, and it suggests that duplication of other genes might be a factor in susceptibility to other types of cancer. Further research has found that extra copies of the Brachyury gene are also present in many sporadic chordomas – those not linked to a family history.
Since these discoveries, 2 different labs have been able to turn Brachyury off in chordoma cells, stopping cell proliferation in laboratory experiments. Now 2 labs are trying to do the same thing in mice. Researchers at the National Cancer Institute have also recently found that Brachyury plays an important role in several other types of cancer, so it is possible that figuring out how to target this gene with drugs will have an impact beyond chordoma.
But despite these advances of just the past few years, there are still only 2 chordoma projects underway that are funded by the National Institutes of Health (NIH). As a result, progress isn't being made as fast as it could. More funding from the NIH would certainly help facilitate new discoveries. But beyond providing funding to researchers, the NIH could make a big impact on rare cancers like chordoma by including them in existing programs such as The Cancer Genome Atlas and the newly launched Therapeutics for Rare and Neglected Diseases program. The Cancer Genome Atlas could help identify the molecular pathways driving these diseases, and it could help identify new cancer genes such as Brachyury that play a role in multiple types of cancer. And when potential therapeutic targets like Brachyury are identified, the Therapeutics for Rare and Neglected Diseases program has the potential to translate these discoveries into drugs suitable for investment by pharmaceutical companies.
When I was diagnosed in 2006, there were only a handful of researchers studying chordoma, and there were no drugs to treat it. Now, thanks to growing awareness, there are about 170 scientists researching the disease around the world, and scientists have found strong evidence suggesting that mTOR inhibitors and other available drugs might successfully manage the disease. We need to continue this trend. If we can extend survival even a few years at a time, then that's a step in the right direction.