About AACR Scientific Reports
About the AACR Cancer Disparities Progress Report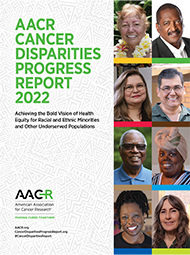 The AACR has been a longtime leader in advancing the science of cancer health disparities and the inaugural AACR Cancer Disparities Progress Report is an exciting new initiative with the overarching goal of increasing public understanding of cancer health disparities and of the vital importance of cancer health disparities research to saving lives. The report underscores the need for increased annual federal funding for the government entities that fuel progress against cancer health disparities, in particular, the National Institutes of Health, National Cancer Institute, and Centers for Disease Control and Prevention.
About the AACR Report on the Impact of COVID-19 on Cancer Research and Patient Care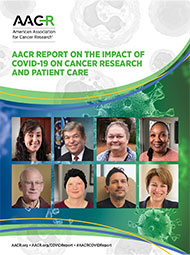 Research indicates that patients with cancer are at an increased risk for COVID-19 infection and severe disease. In addition, the interruptions caused by the pandemic may contribute to worse cancer-related outcomes in the coming years.
The AACR Report on the Impact of COVID-19 on Cancer Research and Patient Care is a first-of-its-kind report that provides a comprehensive view of the burden of COVID-19 among patients with cancer; the challenges presented by the pandemic in cancer research and patient care; and the changes implemented during the pandemic that have unexpectedly improved research practices and access to care.
About the AACR Cancer Progress Report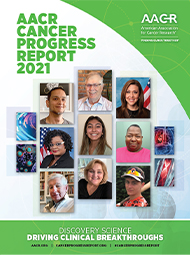 With the number of cancer cases diagnosed in the United States rising every year, it is vital that the AACR increases public awareness about cancer and the importance of research for improving health and saving lives from cancer. The annual AACR Cancer Progress Report is a cornerstone of these educational efforts and the AACR's work to advocate for increased funding for the federal agencies that are vital for fueling progress against cancer—in particular, the National Institutes of Health (NIH), the National Cancer Institute (NCI), and the Food and Drug Administration (FDA).
The Report is released in September of each year and highlights advances over the past 12 months in the prevention, detection, diagnosis, and treatment of cancer. It also includes the personal experiences of cancer survivors who have benefited from these advances. Together with the developments described in the report, these survivor stories provide hope for a much brighter future for cancer patients and their loved ones.